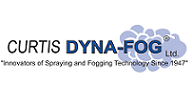 Curtis Dyna-Fog produces a complete line of spraying and fogging products.
Our equipment is ideal for mosquito and flying insect control, crawling insect control, bird repellent fogging, smoke/odour abatement, heavy commercial fogging, stored crops, military and police force training, special effects and more.
With more than 50 years' experience in combating transmittable diseases, Curtis Dyna-Fog, Ltd. designs and manufactures equipment specified by Health Ministries, The World Health Organization and other public health agencies worldwide. Dyna-Fog products range from small hand held units, to mid-sized knapsacks to large vehicle mounted machines. With distribution in more than 80 countries, we offer the most complete range of products available.
Our brands
Our reputation is built on leading brand heritage, developed with extensive knowledge of our markets and supported by experts in each field. Many of our brands have a number one market position and are built on a reputation of high quality products and support services, alongside innovative new brands developed to meet ever changing trends and needs. We continually work to develop our brands to support our distributors across our territories.